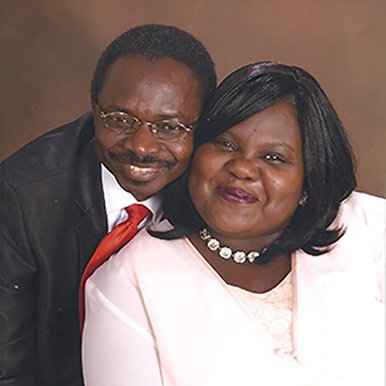 Esther and Douglas are the Founders of Africa's HOPE, Inc (USA) and AfriHOPE Missions (Ghana). We have been married since October 1986 with three children: Irene, Theresa and Joshua. I have always held the dream to study in the USA since 1972 as teenager to prepare to serve my people in Ghana. This dream took me to Germany, Libya, the Ivory Coast and Italy until the Lord opened the door for Esther and I and our daughter Irene (born in Italy) to travel to the United States of America in August 1988 to begin my studies at the Southeastern Baptist Theological Seminary at Wake Forest, North Carolina.
I took one year Clinical Pastoral Education at the University of Pennsylvania Medical Center in Philadelphia, Pennsylvania. I served two churches in Philadelphia and Bala Cynwyd, Pennsylvania as Assistant pastor for a total of five years between 1992 and 1997.
I worked for a Foster Care Social Service Agency as Case Management worker for about two years before becoming a prison Chaplain. For seven and one-half years before I retired, I was the Facility Chaplaincy Program Director with the Pennsylvania Department of Corrections.
Our children have been very good part of our journey to this point. They spend time to pray with us and for the ministry, especially, during our Saturday Family Prayer Breakfast meetings. Family is important to us hence, our commitment to help desperate and needy families in the rural communities where we serve.
Serving in rural communities in Ghana can have their own challenges. However, we are determined to face such challenges as they come, knowing quite well that the God who has called and equipped us shall also provide us with the needed strength and resources to perform the tasks ahead of us. We are encouraged by the declaration God made to His people through His Prophet Jeremiah saying
"For I know the plans I have for you," declares the Lord, "plans to prosper you and not to harm you, plans to give you hope and a future." (Jeremiah 29:11)